NC DRILL CHUCK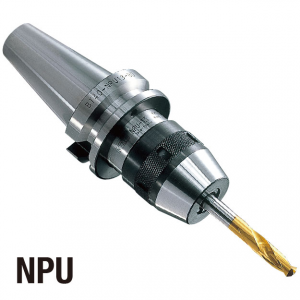 Compact, High-Accuracy, and High-Rigidity Drill Chuck
● The shank body and keyless drill chuck are integrated into a single body in order to prevent the shank and drill chuck are accidently separated.
● Grooves for additional tightening by a wrench are provided on the shank body to prevent drill slip and assure safety in an unmanned FMS operation.
● This drill chuck provides three times of the chucking torque as conventional products to avoid slippage of the carbide drill and other tools.