J TYPE SK NUT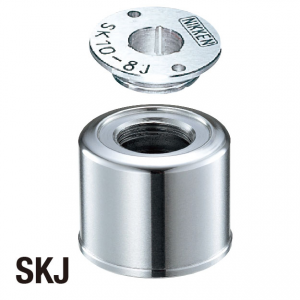 Powerful jets spray cutting edge even at 10,000 RPM!
● Just change the nut to transform the standard slim chuck or SK collet into a jet type.
● Powerful jets shoot through triangular grooves rather than the slot of the collet.
● No splashing of coolant even at high rotational speeds.
● Support different shank diameters when you change the cap.
Uses of the J-type SK nut
● Special tap and prototype cutting tools with coolant throughs are very expensive.
● For a burnishing drill for cast hole
● Supply and add water to the drill shoulder for through-hole machining on drills with oil holes!
● For cutting tools with coolant grooves
● The power of a complete mechanical seal to prevent intrusion of dust and chips inside the slim chuck body or SK collet!
The J-type SK nut and cap can be used for standard slim chucks or SK collets.

×
https://www.nikken-kosakusho.co.jp/en/movie/#movie06