HA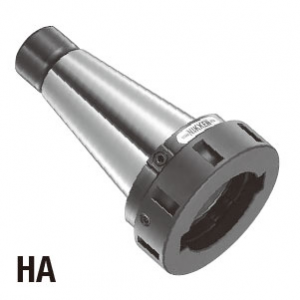 Quick Change Holder can change a tool for milling work in 3 seconds!
● Quick tool change in 3 seconds!
● Protection of machine spindle
This taper holder protects the spindle taper and maintain high-accuracy milling work.
● Ideal taper holder
The holder uses an NT taper for both inner and outer diameters. It is an ideal tool holder for heavy cutting applications and quick tool fitting and removing.
● High accuracy and long life
The taper holder is made form SNCM materials and had been processed with sub-zero treatment after carburizing. As a result, it assures a high-accuracy finish and high durability.
● Wide-ranging tooling system
In addition to standard tool holders, the Quick Change Spindle Speeder, Quick Change Boring Heads, and other tooling systems are also available.

クイックチェンジホルダ付属品